Prienai retirement home is located in a lovely spot surrounded by nature on the banks of the Nemunas River and in the vicinity of the Žvėrinčius Forest, which are both a blessing to retirement home's residents and bring them spiritual peace.
If you are an elderly person today, struggling with everyday life or a disability, feel lonely and your relatives are not able to give you the attention you need at the moment, but you would like to be a part of a community, improve your health and share your life experience with others, OUR HOME IS HERE FOR YOU.
You will be welcomed in our home and taken care of by qualified and friendly staff. You will be accommodated in a single or double room, or in a large, spacious and cosy room in the nursing unit.
If you choose our home, our staff will make you fell understood and needed, you will have a great opportunity to be among peers and like-minded people, and you will be involved in the community life. We will respect your privacy and dignity, and we will give you the opportunity to create and develop.
Moreover, you will be able to improve and maintain good health in Prienai retirement home. When you are suffering from a bad mood or sadness, we will offer you a refreshment for your body and soul – a wide set of therapies including light therapy, colour therapy, scent therapy, art therapy, movement therapy, bubble-blowing therapy, candle-making therapy and last but not least, therapeutic landscapes.
OUR VISION is a modern, innovative and constantly improving old people's home that meets all the European Union requirements and offers high quality social care with an educational and rehabilitative mission.
OUR MISSION is to provide and organise qualified social and nursing care, personal health care and rehabilitation services for the elderly and disabled adults, promoting their empowerment, integration into society, expanding lifelong learning opportunities, reducing social exclusion and creating appropriate living conditions that resemble true home. Prienai retirement home is a 210-bed state-run social care institution for the elderly with disabilities. We are located in Prienai, on the banks of the Nemunas River, we were founded in 1948 by the Prienai District Municipality.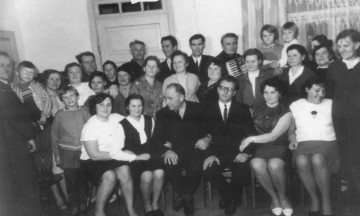 The retirement home was originally established in 1948 in Mačiūnai, Prienai District. In 1950 it was moved to its present location on the banks of the Nemunas River. Initially, about 50 people lived in the home, but after the construction of a brick apartment house, we were able to accommodate 200 people. Residents of the care home are accommodated in single and double rooms, and in the nursing ward in large, spacious, and comfortable rooms.
Since 1994, Lithuania has been undergoing an intensive reform of its care institutions. Social work programmes have been developed by orders of the Minister of Social Security and Labour, and social workers started working in care homes. The quality of life of the elderly and the disabled has dramatically improved in the region by means of social and medical rehabilitation. The Prienai retirement home started to provide a wider range of educational and rehabilitation services to the residents, strengthening their physical and mental health and integrating them into society in various ways. In 2007, a new modern two-storey building with an attic was built, covering an area of 1250 sq. m. This building has spacious rooms, new furniture, sanitary facilities adapted for the disabled, a lift and lobbies for various events. The building is home to veteran athletes. What is more, there is a training facility, where Lithuanian social workers and assistant social workers receive appropriate training.