About us
Prienai retirement home is located in a lovely spot surrounded by nature on the banks of the Nemunas River and in the vicinity of the Žvėrinčius Forest, which are both a blessing to retirement home's residents and bring them spiritual peace.
If you are an elderly person today, struggling with everyday life or a disability, feel lonely and your relatives are not able to give you the attention you need at the moment, but you would like to be a part of a community, improve your health and share your life experience with others, OUR HOME IS HERE FOR YOU.
You will be welcomed in our home and taken care of by qualified and friendly staff. You will be accommodated in a single or double room, or in a large, spacious and cosy room in the nursing unit.
Read more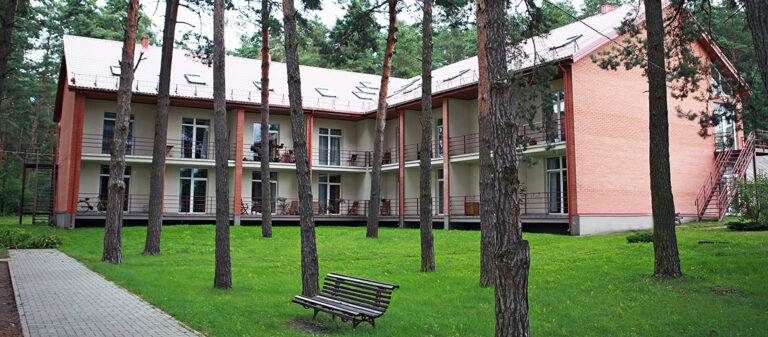 Frequently Asked Questions
Pateikiami dažniausiai užduodami su įstaigos kompetencija susiję klausimai ir atsakymai į juos
If you are willing to pay the full price, all you need to do is to arrive at our home at a specified date and sign a service agreement with us.
If you need a subsidy from the local government in Prienai, you will need to apply for the subsidy to your local Social service department at the local government of your declared place of residence.
Adult inhabitant with light disability 1250 Eur/month;
Adult inhabitant with severe disability 1450 Eur/month
Our home offers single and double rooms. There are also spacious four people rooms for inhabitants with severe disability (with need of nursing)
All inhabitants at our home are looked after by family doctors and other specialists. Our inhabitants can choose which specialist they will be attended by.
Our retirement home medical staff also includes a psychiatrist, a medical psychologist, a physiotherapist, an occupational therapist, a dietician, general practice nurses and their assistants.
Contact us
Call us
I-IV: 8:00-17:00
V: 8:00-15:45